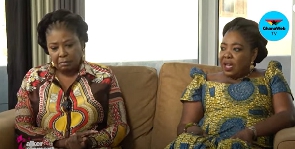 It took the special grace of God to save twin sisters, Lydia Dedei Yawson Nee Tagoe and Elizabeth Korkoi Tagoe, Ghana's veteran gospel musicians, who had to work at a construction site at a young age.
The hard work demonstrated by the Tagoe Sisters touched the heart of a prominent man who later adopted them and offered them the needed support.

"We had to go carry blocks. Panin would mix the mortar with skills. By the grace of God, he has been so good to us," Elizabeth Tagoe recalled.

Raised by a single mother in Achimota a surbed of Accra, the Tagoe Sisters had to sell sugarcane, local snacks, and take up menial jobs at construction sites to make ends meet.

Just like Ruth from the Bible, the twin sisters were working in a field when their destiny helper located them.

"Our mother single-handedly took care of us before we met our adopted father Nana Wood Ekumfi II. He adopted us after discovering us at his building site where we worked as labourers. He asked why these small girls were carrying all these things.
"The foreman told him that we lived in the neighbourhood. We told him that our mother had gone to work and so when she's not there, a a man's gotta do what a man's gotta do. He was impressed with the hustle, how we were trying our best to survive and so he decided to adopt us because we could speak Fante, Twi and English just like his children," Lydia Dedei Tagoe told Elsie Lamar in an interview on Talkertainment.

In their May 2023 interview on GhanaWeb, Lydia opened up about the abuse she faced under the roof of her caretaker. It brought joy to her heart when she finally reunited with her twin sister.

"Before that time, Kakra was being treated like a daddies-girl where she was staying but I was with a Reverend Minster and I was frequently beaten. The man who later adopted us admonished my mother not to separate us and so we had to be together...Kakra was enjoying and so she wanted me to come and equally enjoy the good food and ourselves because we were tired," she disclosed on GhanaWeb TV.



Watch the latest episode of Nkommo Wo Ho below:




OPD/BB