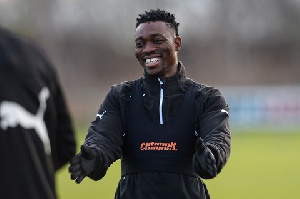 On February 6, 2023, a deadly earthquake struck southern and central Turkey as well as western Syria, trapping many people, including Ghanaian footballer Christian Atsu.
In a newly released report, the footballer's agent, Nana Sechere, confirmed that the player has passed on in a tweet.

"It is with the heaviest of hearts that I have to announce to all well-wishers that sadly Christian Atsu's body was recovered this morning

"My deepest condolences go to his family and loved ones. I would like to take this opportunity to thank everyone for their prayers and support," he said.

After the news broke, some Ghanaian celebrities took to social media to express their condolences and shock.

One of the first to tweet about the news was media personality Bridget Otoo who said, "Not the news you want to wake up to. May God comfort his family. No words can replace or measure their pain at this time."

Minister for Information, Kojo Oppong Nkrumah for his part, also tweeted, "Sad sad sad development."

Musician Guru also tweeted his initial reaction choosing to use an exclamation. "Hmmm."
Hmmm

— GURU NKZ (@gurunkz) February 18, 2023
It is with the heaviest of hearts that I have to announce to all well wishers that sadly Christian Atsu's body was recovered this morning

My deepest condolences go to his family and loved ones. I would like to take this opportunity to thank everyone for their prayers and support

— Nana Sechere (@iAmNana7) February 18, 2023
Not the news you want to wake up to. May God comfort his family.

No words can replace or measure their pain at this time. ????

— Bee ???? (@Bridget_Otoo) February 18, 2023
Sad sad sad development. https://t.co/KNYuSJaGo7

— Kojo Oppong Nkrumah (@konkrumah) February 18, 2023
My heart is heavy, and I am not sure how to feel now. Rest well, Christian Atsu. May the heavens welcome you with smiles. #RIPChristianAtsu

— DoreenAbanemaAbayaa (@abanema) February 18, 2023
Though we might not understand cos it hurts so bad yet we will trust in you lord for we know who you are , Rest Well Christian Atsu son of the soil you will be missed . pic.twitter.com/v4brtjlFAD

— iOna reine (@ionareine) February 18, 2023
RIP CHRISTIAN ATSU, May God keep your family safe ???? No amount of words will bring you back, rest in peace in the Heart of the Lord???????? pic.twitter.com/eS4o5fCEKT

— Cookie Tee (@TheCookieteeGH) February 18, 2023
I pray for Christian Atsu's family.

A very sad development

— Nimaaa (@Atouyese_) February 18, 2023
This is indeed sad.

RIP Christian Atsu. pic.twitter.com/OcsYFzjagF

— Bola Ray (@TheRealBolaRay) February 18, 2023
????❤️ pic.twitter.com/3JvuFYfrAR

— nana aba (@thenanaaba) February 18, 2023
No

— miss forson (@lydiaforson) February 18, 2023
Watch the latest episode of Talkertainment below:
Watch the latest episode of Nkommo Wo Ho below:




ADA/SARA