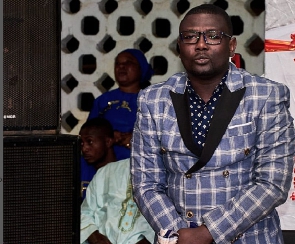 Gospel singer, Ark Erico, has opened up on why he contemplated switching to Highlife music at a point in his career. He has shared his experience on how people in his circle are slow to assist their colleagues in need.
At the onset of his career, Mark Okraku Mantey admonished Erico, the Season 3 winner of Mentor reality show to concentrate on Highlig music due to his exceptional voice and talent.

According to Erico, he paid no heed to Mark's words adding that the likes of Kuami Eugene and Akwaboah who worked in the church have recorded massive success as Highlife musicians.

Looking back at the turn of events, Erico believes that he would have recorded a major breakthrough should he have become a secular musician.

In an interview with Kwaku Manu on the 'Aggressive Show' Erico explained why he almost switched to Highlife music.

"I went through financial difficulties, that was the number one reason. Secondly, there was something happening, following God doesn't come easy. Things do not always turn out how you want them to be. I started to wonder, maybe I should have taken Okraku Mantey's advice to do Highlife music. I could have made it big.

"The likes of Kuami Eugene and Akwaboah have been accepted and doing well. As a gospel singer who is in God's house, I received zero support from the people I know are blessed with the means to help. They will not mind you...also, when you become successful in the gospel industry, they will associate it with blood money," he said.
Erico who named the gospel fraternity as hypocrites exposed some rots adding that there is love and support among secular musicians.

"God instructed us to love one another but people in the church are quick to rejoice over the downfall of others...these worldly or contemporary singers love to support their colleagues that can not be said about those in my fraternity," Erico posited.

Watch the videos below:






Watch the latest episode of Nkommo Wo Ho below:





OPD/OGB