Hypocrites: A Plus slams Amanda Jissih for joining Arnold to bash him over controversial Hajia4Reall post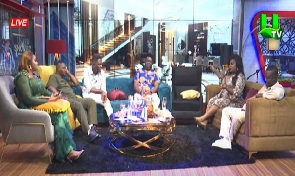 One-time musician cum political activist, Kwame A Plus, engaged in a heated debate with fellow panelists on UTV's United Showbiz regarding a controversial social media post he made about the musician and social media influencer, Hajia4Real, following her arrest on alleged romance scam charges.
A Plus criticized individuals like Hajia4Real who, according to him, deceive the youth into believing that their wealth are acquired through honest means rather than illicit activities in a Facebook post.

The topic was introduced for discussion on the show on May 20, 2023, and most of the panelists, with the exception of Mr. Logic, argued that A Plus was too quick to pass judgment on the matter, as the case is still pending in court.

Amanda Jissih, one of the panelists, challenged A Plus, highlighting that his post directly implicated Hajia4Real.

A Plus took offence at the panelists' comments and accused them of hypocrisy, expressing his belief that the situation presented an opportunity to address important issues with the younger generation.
He further addressed Amanda Jissih directly, claiming to know her thought process and accusing her of handling issues with deep bias.

A Plus emphasized that expressing an opinion about someone is not inherently wrong, regardless of the person's guilt or innocence in a particular case.

Read excerpts of the conversation below:

Amanda Jissih: "What he (A Plus) is saying I don't understand because she asked you that the post that you made it seems you have already proclaimed your judgment because what you wrote, …directly you are talking about Hajia4Real.
A Plus: "Please let me tell you something you are all hypocrites, all of you are hypocrites…you see it is a good opportunity that we use to tell something to the young children. And Amanda (guest) I know you, I know how deeply you handle issues, I know what you are thinking, look there is nothing wrong about someone saying something about somebody, the first person who said something about me I didn't like was Arnold, and my issue is that whether she has been found guilty or not is needed here nor there, I am saying that those people doing all these kinds of show off makes people think that they are useless."

You can also watch the latest episode of People & Places here




Meanwhile, watch the latest episode of SayItLoud on GhanaWeb TV below:





Watch the latest episode of Nkommo Wo Ho below:


AM/BOG