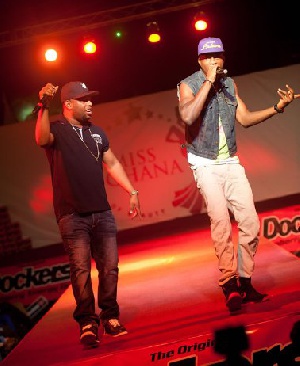 'Tonga' hitmaker, Joey B has responded negatively to the beaming question asked over the weekend published on Georgebritton.com whether he had left D-black's record label, BAM. He indicated that he had not left the label yet, and he is not leaving anytime soon.

Black Avenue Muzik, the record label which nurtured him to win the discovery of the year award at this year's Ghana Music Awards.


This was a result of a study made by the writer for many days. According to the report 'Joey B has been seen alone and sometimes with a few friends out of the circle of BlackAvenue Music at some events including EL's B.A.R concert and also at VVIP's SallaFest show which marked the end of the Islamic fasting and praying season, Ramadan.


While, D-Black together with his team have been moving around without his signed artiste, Joey B that is quite surprising as the two had always been seen together at almost all events.'


Likewise the fans of the 'TONGA' hitmaker, who has taken up the responsibility as well to refute the question put forwards their lovely artiste, Joey B with the answer being 'FALSE'.

But in this industry, there are some instances you do not need anyone to tell you before you realise that this is going. One has to do his permutation and get to know that this is what is happening, and the probability that your guess is right will be higher.


Watch 'Strawberry ginger' by Joey B ft D-Black & E.L: