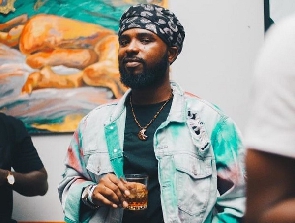 Ghanaian musician, Odartei Milla Lamptey popularly known as Gasmilla, has highlighted that he was the first musician to enter the mainstream music scene without the support of a record label.
Disclosing this during his appearance on Onua Showtime with McBrown, where he talked about how musicians can balance their music careers with other sources of income.

The "Telemo" hitmaker highlighted his journey as an independent artist who successfully navigated the music industry without traditional record label support.

"I am the first artist to ever come into the mainstream industry without a record label, you can check it anywhere. I came through the backdoor, I didn't come through the front door" he stated.

Gasmilla, who is a graduate of the University of Professional Studies (UPSA) attributed his success to his background as an accounting student in school. Citing his education played a role in managing his finances effectively.

"Accounting taught me how to manage my finances and put myself forward…it helped me move right," he said.

Gasmilla came into the limelight with his hit songs "3 Points" which was released in 2013 and "Telemo" ft. Capasta which was released in 2015. He is also credited with creating the Azonto Dance and Genre.
ID/BB

Ghana's leading digital news platform, GhanaWeb, in conjunction with the Korle-Bu Teaching Hospital, is embarking on an aggressive campaign which is geared towards ensuring that parliament passes comprehensive legislation to guide organ harvesting, organ donation, and organ transplantation in the country.

Click here to start the nomination process for the 2023 GhanaWeb Excellence Awards

Watch the latest episode of Everyday People on GhanaWeb TV below: