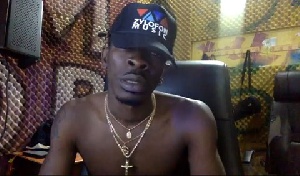 Ghanaian Dancehall artiste Shatta Wale is in the news one more time and for obvious reasons he seem not to keep his cool for comments being passed about him.
The Shatta Movement boss over the years has drawn attention to himself for his controversial lifestyle which has been widely condemned by a section of the Ghanaian public but the artiste who values his deeds as perfection has hit back at his critics, saying he is God sent.

Shatta Wale in a latest Facebook live video said he has been sent to preach the word of God and the best way he can execute that task is through his music, thus he is unperturbed with the criticisms fired at him.

"In this world we are living in let's face facts. Nobody can threaten me in this world because I owe nobody. The only person I owe in this world is God because I owe him my life… I just came into this beautiful world to come and preach the word of God and that's it, and through my music," the self-acclaimed Dancehall King can be heard saying.

The 'Kakai' hitmaker also addressed the numerous insults directed at the size of his mouth which usually takes the centre stage when there is an issue about him in the entertainment industry.

Undoubtedly, his reaction towards comments about his lips shows that's his weak point in every argument and in times of beefs with other artistes, he loses the lyrical battle when his lips become the narrative.

Shatta Wale who seems unhappy with the "Gbe Naabu" tag given him by his rival Yaa Pono in 2017 at a time they were beefing, further swore and 'cursed' a section of the public who ride on the slogan to tease him at the least opportunity.
In the 47 minutes long video, Shatta Wale indicated that he is content with his "big mouth" arguing that anyone who attacks his physical appearance is cursed because such individual makes mockery of God's creation.

"You see this mouth, it is God who created it and anyone who insults this mouth has insulted God and has to apologise to God not me. I don't need any apology from anyone."

"Do what you want others to do unto you," Shatta Wale advised.

The Zylofon Music signee in the entire video sort to furiously throw shades with the gospel and jab individuals he describes as haters of his success. He went to the extent of quoting scriptures in the bible to back his utterances.

According to the self-acclaimed dancehall king, he lives by the rules of the bible and acts in the direction of God thus he won't stoop low for anyone who crosses his path in his music career.