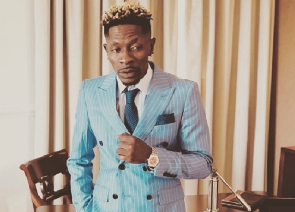 Renowned Ghanaian artist Shatta Wale, also known as Charles Nii Armah Mensah Jr., has made a bold claim asserting his extensive knowledge of the Ghanaian entertainment industry.
In a post on Twitter, the self-proclaimed "Dancehall King" confidently declared that he can accurately count the number of Ghanaian celebrities in the country, adding several laughing emojis to his statement.

"I can count our celebrities," he stated and added several laughing emojis on May 26, 2023.

This audacious assertion by Shatta Wale has sparked lively conversations and debates among fans, critics, and fellow artists alike.

On February 23, 2023, Ghanaian-American comedian Michael Blackson shared his perspective on the matter.

Blackson suggested that Ghana can boast a few superstars unlike Nigeria, where the number is so high that it becomes challenging to keep track, however, his statement faced some backlash.
In support of his point, Blackson identified four Ghanaian music superstars: Shatta Wale, Stonebwoy, Sarkodie, and Black Sherif.

Blackson further expressed that although Ghana is considered the hub of tourism in Africa, often referred to as the "Dubai of Africa," Nigeria has taken the title of the "hub of afrobeats music" from Ghana.

In defence of Michael's statement, legendary Ghanaian sound engineer Zapp Mallet highlighted that Ghanaians are being overlooked by the media, with only a select few receiving attention.

Zapp Mallet attributed this situation to the media's portrayal, suggesting that they have created an impression that these artists are the only talented individuals in Ghana, which he believes is detrimental to the industry.


I can count our celebrities ????????????????????????????????????????????????????????????

— SHATTA WALE (@shattawalegh) May 26, 2023
Watch the latest episode of Nkommo Wo Ho below:







ADA/BB