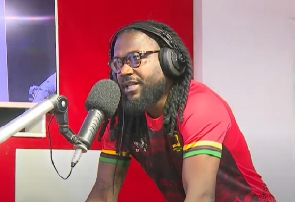 Ghanaian Reggae and Dancehall legend, Samini, is confident that he could fill London's famous O2 Arena all by himself with the right support.
He stated that his global appeal and thrilling performances could draw fans from all over the world.

During an interview on the Day Show with Berla Mundi, Samini expressed his belief that with the proper investment and promotion he could pack the arena to capacity.

He even referred to himself as "Batman" and emphasized that he's known internationally for his music.

"By myself I will fill it , with the right investment, I will fill it you are talking to Batman before I became Samini. Batman, the Mobo Award winner. Kenya King knows Batman. You are talking to people who know that brand.

"If the right things are put in place, and you promote Samini in London, for four months, six months, three months. I will fill that space," he declared.
However, Samini clarified that he wouldn't finance such an endeavor on his own.

He doesn't trust Ghanaian investors to fully support such a project.

He mentioned that despite past efforts to approach them, Ghanaian investors often didn't follow through on their promises.

"I'm not gonna take that money and go and do this because a Ghanaian wants to see the place full. Hell no, no Ghanaian investor is going to do that.

"I don't have to trust them; it is not in our culture to dish out funds like that. That's how they are, you can never change them. The typical Ghanaian investor will chill with you but will never give you, say, $5,000 and say, 'Let's have a business plan about your career," he stated
ID/OGB

Ghana's leading digital news platform, GhanaWeb, in conjunction with the Korle-Bu Teaching Hospital, is embarking on an aggressive campaign which is geared towards ensuring that parliament passes comprehensive legislation to guide organ harvesting, organ donation, and organ transplantation in the country.

Click here to start the nomination process for the 2023 GhanaWeb Excellence Awards

Watch the latest episode of Everyday People on GhanaWeb TV below: