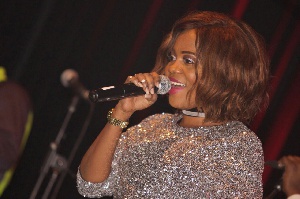 Singer Mzbel has disclosed the least she charges to mount a stage to perform at an event.
The 16 Years composer disclosed on Class Drive on Class91.3FM on Thursday 23 March, in an interview with show host Prince Benjamin, that she demands between GHS15,000 and GHS20,000 per show.

"The smallest I will take to perform on stage is between GHS15 and GHS20,000, so it's not a lot of money because you perform with a whole band and everybody has to get paid, rehearsals and so on and some of the shows I even do it for free," she stated.

She noted that to perform freely at a show, organisers would have to provide their own band. "If you have to do it for free, then whoever you are doing it for has to provide the band so you just go and rehearse with the band and you go and play," the controversial artiste disclosed.
The Awoso Me hit maker, who has several years' work experience in the media, said she makes a lot of money in one appearance as a musician, which in her view is more rewarding than "stressful" salaried work.

Mzbel advised her fans not to judge her based on what they read about her in the media. According to her, she is a nice person who just wants to live a normal life.

She advised: "Don't judge me based on what you read in newspapers or what you read on websites and blogs. If you don't hear it from me, then it's not true. They should understand that celebrities are also human beings. We like to do silly stuffs like they like to do. We like to take our phones and pull our tongues out and take pictures and be carefree, so sometimes they shouldn't take these things too seriously. Otherwise it would not be fun anymore – we would be like robots, always faking.