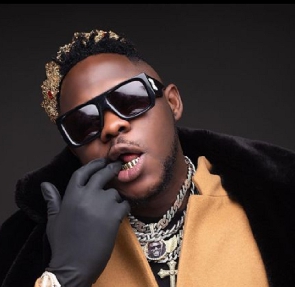 Popular Ghanaian rapper, Samuel Adu Frimpong, also known as Medikal has stated that he is not bothered by any pressure from the up-and-coming rappers.
He sees his journey as a solid foundation from scratch, and those who know his story understand why he is confident about his position.

"It's a journey, people who know me and know my story understand why I am here because I started from scratch and the foundation has always been solid. So I will never be concerned about the new cats coming up," he said in an interview on Bryt TV (October 15).

In addition to his music, Medikal emphasized that he's not just selling tunes; he's showcasing a lifestyle. Thus, he is selective when it comes to shows, if he doesn't feel like it, he won't show up.

However, he clarified that being paid doesn't mean he'll tolerate disrespect; he decides when and where he shows up.

"I'm not just selling music, I am selling a lifestyle, I want you to understand that I have money. I am not just a regular rapper. I decide the shows I want to come to; I don't care about the money.

"If I don't feel like it, I won't come. I choose to go to where I want to go to. But I let people know that you can't disrespect me just because you've paid me, I choose to come when I want to," he said.
ID/MA

Click here to follow the GhanaWeb Entertainment WhatsApp channel



Ghana's leading digital news platform, GhanaWeb, in conjunction with the Korle-Bu Teaching Hospital, is embarking on an aggressive campaign which is geared towards ensuring that parliament passes comprehensive legislation to guide organ harvesting, organ donation, and organ transplantation in the country.

Watch the latest episode of Everyday People below: