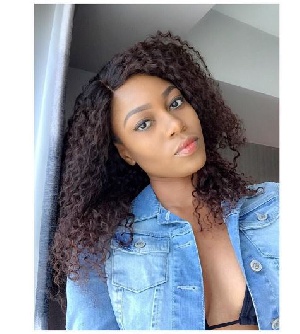 Ghanaian actress and movie producer, Yvonne Nelson has revealed in an interview on Traffic Avenue, that the stress and pressure of her pregnancy and childbirth made her develop High Blood Pressure.
The actress told the story of how her daughter was born and the anxiety she felt when her water broke, for which she believes led to being diagnosed with High Blood Pressure.

"After pregnancy, I developed high blood pressure because she was coming in the car so I got scared…because I was holding her head in the car. When I got to Lister, her head was out so it was crazy.

"My water broke on my bed and there was no one around. I called Sammy Forson, he wasn't home. I called Nii, my neighbour he wasn't home and I had to call like a random neighbour of mine," she narrated.
Yvonne Nelson who couldn't hide her excitement about her daughter and motherhood said the process is 'hard' especially combining it with school, movie production and all her other businesses.

"It's hard, Jessica, it is stressful, like sometimes it gets to me and I get so stressed I have to call my doctor. I always have my BP machine close to my bed…" she said.