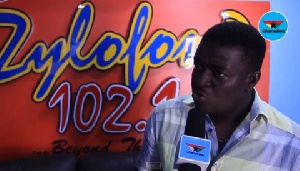 High-life Musician, Kumi Guitar barely few hours of releasing 'Gyae' which many think is a direct jab directed at Stonebwoy has riposted in a recent interview that the track is not a diss to the 'Bawasawa' singer.
Speaking to First News Network, Kumi Guitar said that 'Gyae' is not a diss to Stonebwoy, rather a caution to him to play his roles very well.

According to the 'Betweener' singer, if his colleague Stonebwoy does not tread cautiously, he is more likely to compromise the source of livelihoods of other musicians signed onto Zylofon Media.

On this ground, Kumi Guitar hit the studio to record 'Gyae' as a way of calling Stonebwoy to order with no hard feelings.

He said;

"I am only protecting what my colleague, Stone wants to shut down which I might be affected. No hard feelings. If you listen to the song, it is to inform him to play his role well so we all won't be affected."
There has been growing tension between management of Stonebwoy and Zylofon media, with some people predicting a possible termination of contract since the signing of "self-proclaimed" dancehall king Shatta Wale onto the record label.