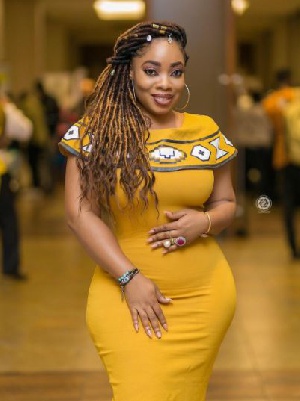 Controversial actress and model Moesha Boduong has finally rendered an unqualified apology to all Ghanaian women over statement she made during her interview with International Journalist Christiane Amanpour on CNN.
Moesha, who is speaking for the first time since parts of her interview with CNN was released, sent her apology via her Instagram page.

"Dear gh this is Moesha. I have been humbled by all that is going on and I have also learnt a lot in the last few days since the CNN video came out. I have had a lot of time to think and reflect and I APOLOGIZE TO ALL, ESPECIALLY MY AFRICAN SISTERS. I pray u all find it in your hearts to forgive me. It was definitely not my intention to offend any of you. I respect all the hard working women of our beloved country and accept that some of my utterances were not a reflection of what happens in most homes. GOD works in mysterious ways and everything happens because he says so???????? Thanks for the love, pieces of advice and criticisms. GOD bless us all! The full version of the interview drops this weekend and I hope you can appreciate what I said in its entirety. Thank you. God bless you all!"

Social media has been buzzing since Tuesday evening April 10 2018, following Moesha Boduong's interview with the CNN.

The actress's comments in the interview have generated a huge controversy on social media. She told CNN that her motivation for dating married men, just like other women in Ghana, is because the economy is tough.

According to her, "In Ghana, our economy is such a way that you need someone to take care of you. You can't make enough money as a woman here. Because even when you want to get an apartment, in Ghana they take two years' advance and I just started working where will I get money to pay?"

Moesha has been grilled by Ghanaians, particularly women, for denigrating them.
She has however apologized.