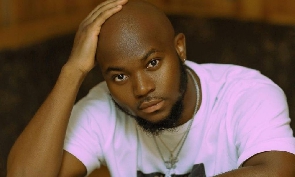 Ghanaian music sensation, Gregory Bortey Newman, also known as King Promise, has insisted that awards are not his main goal. His priority is making good music for his fans.
Speaking in an interview with Graphic Showbiz, the 'Terminator' singer said he believes in making good music, and if he gets awards, that's a bonus. He's really grateful for how well "Terminator" has done and all the attention it's getting.

"I am grateful for what Terminator has done over the period. The magic Terminator is doing is just mind blowing and I am very grateful to everyone who helped make the song what it is today," he said.

"Well, I have always said over the years that I stand for good songs and not necessarily awards. Some years back, I had no awards to my name but I still gave Ghanaians good music," he recalled.

When asked how he makes hit songs, he couldn't really explain it. He just believes in being himself and making music he loves, and he thinks his fans will love it too.

He said, "I've always believed in making good music, not just winning awards. Even before I had any awards, I was making good music for Ghanaians. My music is original, and it comes from my heart. I want to be known for making real music, so I'm careful about the songs I release."

King Promise added that he is really passionate about music, and he can't imagine doing anything else. Music is his life, and he wants his fans to know that he's just getting started.
"My passion for music is always crazy so you would always see me in the studio creating something. Music chose me and that explains my crazy passion for it. There is nothing I think in my head right now apart from music and I want to tell my fans that I am now starting," he revealed.

ID/DAG

Ghana's leading digital news platform, GhanaWeb, in conjunction with the Korle-Bu Teaching Hospital, is embarking on an aggressive campaign which is geared towards ensuring that parliament passes comprehensive legislation to guide organ harvesting, organ donation, and organ transplantation in the country.

Watch the latest episode of Nkommo Wo Ho on GhanaWeb TV below:




Watch the launch of the 2023 GhanaWeb Excellence Awards on GhanaWeb TV below:





Click here to start the nomination process for the 2023 GhanaWeb Excellence Awards