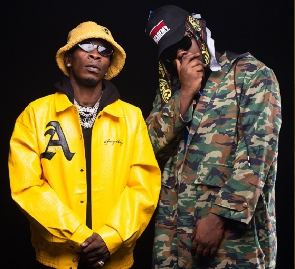 Shatta Wale's name popped up in the trends when rapper Medikal announced that he had parted ways with his long-time manager, Flow Delly.
"I am no longer working with Flow Delly. The reason is quite sensitive so I don't really wanna go into that. But, he is a good guy," Medikal disclosed in an interview with Andy Dosty on Hitz FM.

Shatta who was wrongfully accused of having a hand in Medikal and Flow's breakup has cleared his name with an assurance that his friend who is more like a brother to him, does not take instructions from him.

"I look like the villain but trust me that isn't the case. In future, I am not saying this should happen but if Medikal and his wife separate, I will be blamed," the Dancehall singer disclosed in an interview on Hitz FM.

Shatta Wale added that there is no bad blood between Medikal and his former manager.

"Medikal and Flow are close friends, they are brothers. They've grown in business and they are doing good. Flow Delly and Medikal are doing good for themselves. I can't really pinpoint where this matter started and I won't say they have a problem...he is cool with Flow Delly because they spoke a couple of weeks ago, not too long.
"Flow is my brother and he knows I wouldn't vouch for such a thing to happen. It is not as if they've stopped working and they are now enemies. I feel where Medikal has gotten to with his mindset...I don't dictate to Medikal, he is a whole big man," Shatta Wale clarified.

The music industry has witnessed a strong bond between Shatta Wale and Medikal who have termed their relationship as 'deeper than blood'.

Both parties have received support from each other with Shatta surprising Medikal with a car in 2022 on the occasion of his birthday.

Watch our latest programmes below:








OPD/BB