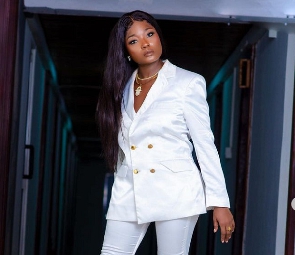 Ghanaian songstress, Efya, is renowned for her remarkable ability to steer clear of drama and controversies that often surround the entertainment industry.
Recently, during an interview she candidly shared her profound philosophy of not engaging with negativity and instead focusing on her true passions, particularly her love for farming.

She firmly stated, "I don't buy into the whole drama hype. It's just a waste of precious energy that could be better spent on my farming endeavors, something I'm genuinely interested in."

Throughout her illustrious career, Efya has faced her fair share of rumors and criticisms from people who may not fully grasp her unique experiences and journey. Reflecting on her past, she revealed, "When I was younger, people would say things about me without really knowing the truth or understanding what I've been through."

However, Efya has learned to tune out the noise and firmly resist giving undue attention to unfounded controversies.

She confidently shared, "Even now, I still hear people talking about me without any validated facts, but I've learned not to pay attention to it. It doesn't bring any positive energy, and I believe it's essential not to feed into anything that doesn't make me feel great."
The super super hitmaker commitment to avoiding drama was put to the ultimate test when she found herself entangled in a feud with fellow musician Black. However, Efya displayed maturity and humility as she took the high road, offering an apology and eventually reconciling with the radio presenter.

During an interview on GHone TV, Efya was asked about her knowledge of Blakk Rasta, to which she initially responded that she didn't know him. However, upon hearing one of his popular songs, 'Barack Obama,' she recognized the name and realized it sounded familiar. Her ability to acknowledge her initial mistake and gracefully reconcile with Blakk Rasta showcased her respect for him and exemplified her personal growth.

Despite her best efforts to steer away from controversy, Efya has faced persistent allegations of drug use throughout her musical career. Recently, during the live recording of her new single on Glitch Africa, rumors about her supposed drug use spread across social media and blogs, triggering a mix of comments ranging from concerns about her career to remarks about her appearance.

Nevertheless, Efya remains resilient and refuses to let baseless rumors define her or deter her passion for her craft. Instead, she stands strong, holding true to her principles and striving to bring positivity and inspiration through her music and farming pursuits.

You can also watch some of our programmes below.