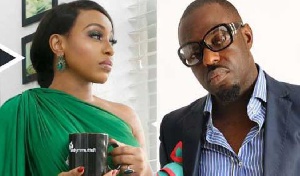 Nigerian supposed Nollywood 'bad boy' actor Jim Iyke was in a hot romantic relationship with fellow actress Rita Dominic although many had thought they will be settling down in marriage but that never materialized.
This rumor was really fueled because the duo were always playing lovers role in their movies.

Speaking on why marriage never happened between them, Jim Iyke said he was just a young actor who was just embracing fame and was just bubbling with life although Rita Dominic was not an outgoing person, but they really had something special between them.

Jim iyke is still not married till now and he said that this is due to the fact that he is yet to find the right person for himself. He is also not looking for a wife in the movie industry has they will already know everything about themselves
In his words;

"I want someone that is entirely different from my world, someone that can bring me to order. The amazing relationship I had before now didn't work for special reasons and it is obviously because of that. I don't want a drama queen, I just need a woman that will come to me with something different all the time, I don't want a predictable life,"

Jim Iyke is reportedly a 'Yoruba demon' after featuring in the movie. His real name is James Ikechukwu Esomugha. He has starred along Rita Dominic in movies which include 'Runaway Prince', 'I Quit', 'My First Wife'.