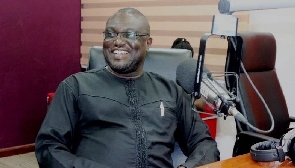 Media personality and actor, Mikki Osei Berko has said he has no interest in Ghanaian movies because they are poor works of production.
Popularly known as Master Richard of the Taxi Driver series fame, the broadcaster said the quality of movies in circulation these days are below standard

"I can't watch most of them because the quality doesn't teach anything… I don't really know if we're doing videos or films but I see most of the producers doing videos and not film," he stated.

Mikki distinguished between a film and video as a 'film' being more artistic or educational in its element, whereas a video is just anything recorded on a device. He further stated that movie producers tend to employ talent rather skill to work in their productions.

He explained that while there is an abundance of talent in the Ghanaian showbiz industry, it does not necessarily equate to skill which is a combination of talent and training, and is rather 'employable.'
Mikki's comments come at the time where Ghanaian filmmakers are protesting against the influx of foreign telenovelas in the country, which they claim is causing damage to the local content industry.

Film producers and actors in the local language sphere of the showbiz scene, took to the streets a few weeks ago to protest the numerous foreign series using Akan-language voice-overs which have become a favorite part of TV viewing time for many people.

According to them, these shows are taking away the Ghanaian viewer's interest in local content, which in turn is negatively affecting the growth of the local film industry.