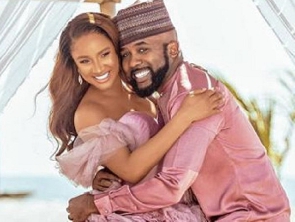 I friendzoned Bank W for over a year - Adesua Etomi-Wellington reveals
Nigerian actress Adesua Etomi-Wellington says her love with husband , singer Bankole Wellington aka Banky W didn't just happen miraculously.

According to her, she "friend-zoned" her husband, Banky W, for a year and a half before finally accepting his marriage proposal.

She believes that their friendship played a crucial role in making their marriage strong.

She also wanted to build a solid friendship first.

She explained, "The friendship we started over a year and a half ago has played a very big role in how our relationship is today."

Speaking at a church service in Lagos, Adesua shared that she initially "friend-zoned" Banky W for several reasons. She wasn't sure if he was the one for her, and she felt that marrying him might add more chaos to her life.
"I friend-zoned him for two reasons. One, I wasn't sure that I have heard from God about whether this person was actually my person. Actually, three reasons. Second, marrying Banky W [laughs]. I was like, 'my life on my own is chaotic enough, I would now marry Banky? No, no, no.'

She emphasized the importance of friendship in a relationship, saying "And then thirdly, just trying to at least have a friendship. And I honestly believe that the friendship we laid over a year and half has played a very big role in how our relationship is today. Banky W is my guy. I mean if you take away romance and sex and everything that makes a marriage, he would still be my guy. Banky is my best friend."

The couple got married in a grand ceremony in 2017 and welcomed a baby in January 2021. However, they faced challenges on their journey to parenthood.

Adesua revealed that she had suffered a miscarriage when she was pregnant with twins, and Banky W shared that they had considered surrogacy after three failed attempts at IVF.

During this tough time, they faced hurtful comments from people on social media for not having a child sooner.

ID/OGB
Ghana's leading digital news platform, GhanaWeb, in conjunction with the Korle-Bu Teaching Hospital, is embarking on an aggressive campaign which is geared towards ensuring that parliament passes comprehensive legislation to guide organ harvesting, organ donation, and organ transplantation in the country.

Click here to start the nomination process for the 2023 GhanaWeb Excellence Awards

Watch the latest episode of Everyday People on GhanaWeb TV below: