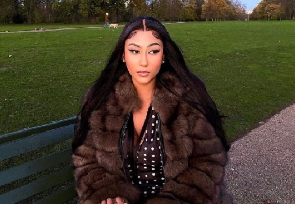 Hajia4Reall has finally confirmed rumours that she had a GPS tracking device strapped to her ankle during arrest in the UK.
Earlier, while refuting rumours of her arrest, Hajia4Reall's camp also shot down claims that the socialite had a tracking device on.

However, Hajia, who is currently facing trial in the U.S has been compelled to finally spill the beans in her latest court statement.

In the quest to gain the court's trust and convince them to meet some demands she made, she said,

"When I was in the UK, I used to go out from 6am in the morning to 6pm. They granted me that opportunity because I had a GPS tracker on my ankle which enabled them monitor my movements. I had the tracker on for 6 months in London and they realized I am not a bad person, because I did not try to escape," parts of the statement read by Kofi Adoma Nwawanni.

Meanwhile, unlike the flexible bail conditions in the UK, she has been confined in her apartment in New Jersey by the U.S court.
Background

Mona Faiz Montage, widely known as Hajia4Reall was extradited to the United States from the United Kingdom over alleged involvement in a $2 million romance scam targeting older, single Americans.

According to US federal prosecutors, the 30-year-old musician cum businesswoman appeared in Manhattan federal court on Monday, May 15 for her alleged involvement in a series of romance schemes.

The news has since flooded social media, topping Twitter trends amidst massive reactions from netizens online.

Hajia's jail requirements
'Hajia4Reall' has pleaded not guilty to the charges leveled against her.

She is also said to have been released on home detention to her aunt's New Jersey residence on a $500,000 bond with GPS tracking via an ankle monitor, her lawyer, and the prosecutor's office had confirmed.





EB/WA