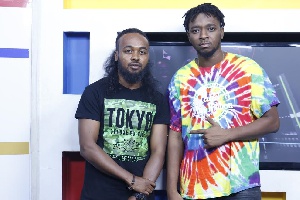 Mon, 22 May 2017 Source: Spyderlee Entertainment TV
Popular Ghanaian music producer, Magnom, has revealed to Spyderlee Entertainment TV how he had to literally chase after colleague musician Joey B to feature him on his new song 'My Baby.'
Speaking in an interview with Nealyon, host of Hot Gist on Spyderlee Entertainment TV on Friday, Magnom stated that he thinks Joey B is in his own space right now; and that in as much he's good friends with Joey B, he had to chase him for the feature.

'I had to chase Joey B to feature him on my new song. Joey B is my guy but I think I had to chase him. I think Joey is in his own space right now.

He has to vibe with you on a different level. So one day, he was going for a meeting and he passed by my studio and he sounded different.
Joey B usually takes a longer time to write his verses but he was so quick. He was writing his lyrics in the booth and I was quite skeptical about how good his verse will be.

After 2-3 days, I realized that his verse was 'bad' as in dope. It was on point; it fitted the song perfectly,' he said.

'My baby' is a song by Magnom featuring Joey B. Ever since the video was released on Youtube, it has received over 94,000 views.
Source: Spyderlee Entertainment TV