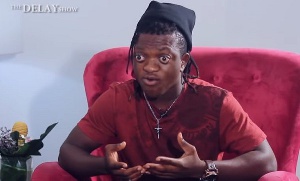 Born Yaw Adu, popular Kumawood actor, Sumsum has expressed his utmost displeasure with the attitude of fellow actor Van Vicker towards him.
Sumsum stars in Twi speaking movies and is known for playing scary fetish and wizardry roles, whereas Van stars in English speaking movies and well known for playing romantic roles. Both actors are good at what they do.

Sumsum made this disclosure in a recent interview on the Delay show.

He recounted how he met Van in Accra and extended a handshake to him but he rather gave him a fist.
"I met my fellow star Van Vicker and I extended my hand for a handshake but he gave me a fist instead, from the way he behaved towards me, I realized he deliberately didn't want to shake my hand and socialize with me. I have a problem with him now; I will also ignore him if he sees me in future and approaches me."

He further accused the English speaking actors and actresses for discriminating against the Kumawood actors because they speak Twi. He said, "I've realized that the Accra actors see us the Kumasi actors as useless and insignificant because we speak Twi, but we lifted the face of the Ghanaian movie industry."

Sumsum is known for movies like 'Abro ne bayie', 'Two Paddies', among others.