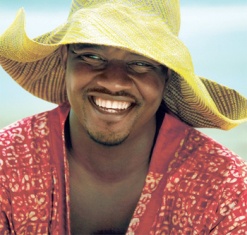 Tue, 18 Sep 2012 Source: Mavis Darkwah - RadioXYZonline
"Even if I won the award, I would give it to Uncle Olu Jacobs". These were the magnanimous words of one of Ghana's screen darling boys, John Dumelo, on Celebrity XYZ last Saturday.
With his service in the movie industry, John has been nominated in this year's ZAAFA awards for the category of "Best Lead Actor" with other actors like the veteran Nigerian actor, Olu Jacobs and Ghanaian actor Prince David Osei.

John disclosed to Nana Yaa Agyare, host of Celebrity XYZ, that even if he wins the award, he would dedicate it to "Uncle Olu Jacobs". This statement attracted many callers from Nigeria and Ghana on the generosity of the actor. According to him, "Olu Jacobs has been in the industry for quite a long time. I have learnt so much from him and he is one of my favorite people I like to hang out with whenever I go to Nigeria and I tip him to win the award".

The celebrated actor, John Dumelo, half Ewe, half Fante started his education from Christ the King School where he gained his first acting role. According to John, this is where Gama Films picked him and his sister to act in "Baby thief" in 1991. He then attended Achimota School where he was part of the drama group, chess club and many other associations on campus.

"I was stubborn in Achimota School but I hardly got into trouble," he said. The screen sweetheart of many African ladies continued his education in the Kwame Nkrumah University of Science and Technology (KNUST), where he studied engineering. Apart from acting, John Dumelo is an entrepreneur who founded a real estate firm and also has a fashion line named "J-Melo" collections from which he donates 30% to his charity, the John Dumelo Foundation
Our Ghanaian movies have been accused to be full of nudity in recent times. Do our actors and actresses actually engage in such acts on set? Well, according to John, kissing is very real in our movies. He says they sometimes have to do these things to make their movies relevant. But will John go nude to make a movie relevant? "I won't go nude but if I have to go a certain level to make the scene relevant, I will".

What then keeps John going and excelling in the movie industry? God! He said. "I'm a normal person, God has blessed us all in different ways and I always pray to him for wisdom so I guess that is what he's given me abundantly". For all the numerous movies that he has acted in, "The King Is Mine" is his favorite.

This movie was also his most challenging movie because that was his first time to act like a king. He advised his fellow actors and actresses to always be humble in their work and remember to help people down when they get up there especially their fans.

Now something to excite our single ladies out there, the handsome John Dumelo is single and unattached and hopes to be a family man soon. Isn't that fun for the girls?
Source: Mavis Darkwah - RadioXYZonline