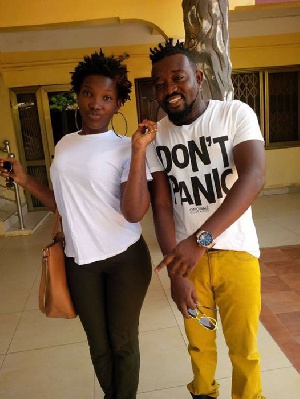 Ebony's manager Ricky Nana Agyemang popularly known as Bullet has responded to claims that his artist, Ebony shows too much skin on social media, and called on Ghanaians to understand and get used to her brand and style
According to him, to say Ebony shows too much nude pictures on social media was not true.

Ebony he said, was just building her brand adding that, "to say, she shows too much nakedness is a awful. She does what she does to please her fans and that does not mean she is showing too much or whatever".

Bullet continued by saying, "I'm glad some of her colleagues have realised that she is talented and very passionate when it comes to music. She is talented and some people just want to destroy her reputation with all kinds of accusations."

Ebony was in the news for exposing almost half of her private parts at the just ended 4Syte TV Music Video Awards when she was captured in a video.
The news which has since been debated on several social media platforms received mixed reactions from critics who believed Ebony was getting out of hand.

However, according to Bullet, his artist was just building the Ebony brand and sees nothing wrong with it.

He jumped to Ebony's defense by saying he had never seen her nakedness on social media before and believes it's time Ghanaians grow to understand the musician.