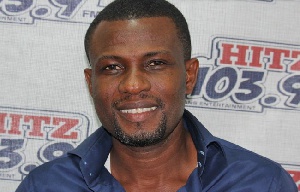 Wed, 18 Jan 2017 Source: Hitz Fm
Music producer and Mark Okraku Mantey has dismissed rumours that suggest that he has dropped his intended lawsuit against rapper Sarkodie.
The C.E.O of Slip Music insists he is still suing Sarkodie for infringing on his intellectual property right by recording another version of the late Daasebre Gyamenah's hit song, 'Kokoko'.

In a brief interview with Merqury Quaye on the Cruise Control on Hitz FM Wednesday, he said emphatically, "No I didn't say so."

Mr Mantey added that he has only spoken to Hitz FM where he disclosed that Sarkodie gave me a call over the weekend after his [Sarkodie] lawyer had called earlier.

"The calls were actually back to back because I dropped this line and the other one followed. We were supposed to have met today [Wednesday] but I told them I would not be around because I'm going to Kumasi to pay homage to Asantehene," the said.
The music producer also gave a brief account of what transpired in the telephone conversation between himself and Sarkodie.

"The lawyer who called said she was Sark's lawyer and she's sure I know why she was calling and I said yes. The import of the call is that we need to talk. "She said it's not like they are being disrespectful about hearing that I didn't like the way they went about my song but she was out of town and that was the reason for the delay in sitting down to talk" he revealed.

When asked if he has dropped the lawsuit, his answered "No! Until we meet and I hear their sides and how the talk will go will inform us as to what to do next."
Source: Hitz Fm