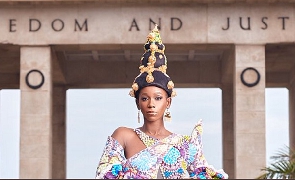 Ghana's talented actress and movie producer, Ama K. Abebrese, is the latest to react to Meek Mill's music video shoot at Ghana's presidential palace in Accra.
Ama noted in a tweet that she will be in shock when she is denied access to shoot her next movie at the Jubilee House as a citizen.

"I'm going to request to shoot scenes for my next movie at Jubilee House. I really hope that the Office of the President grants permission. Because if they don't,' she tweeted on January 9, 2023.

This comes after the popular American rapper published his latest music video, which captured him at the residence and office of Ghana's president, Nana Addo Dankwa Akufo-Addo.

The rapper, who has been rebuked across all social media platforms for disrespecting the highest office, has apologized to the good people of Ghana and the office of the president for his actions.

"My apologies to the people if any disrespect! We still gonna push to make the connection between black people in America and Africa … what I'm trying to do is more than a video and you should see coming soon! My apologies to the office also!" Meek Mill tweeted.

In a separate post, he added: "I don't think they knew it was video footage when we asked to shoot its a small camera and one kid … in America, we didn't know this existed and was excited to show because they don't show Ghana on our media much! So I'll take responsibility for my mistake! Not intentional."
Check out the tweets below


I'm going to request to shoot scenes for my next movie at Jubilee House. I really hope that the Office of the President grants permission. Because if they don't….. ????

— Ama K Abebrese (@Ama_K_Abebrese) January 9, 2023
I will commend the @GhPoliceService PRO team. Anytime we need uniforms and other apparels and equipment for movie shoots, and follow due process, they have usually been accommodating to productions I've worked one.

— Ama K Abebrese (@Ama_K_Abebrese) January 9, 2023
My apologies to the people if any disrespect! We still gonna push to make the connection between black people in America and Africa … what I'm trying to do is more than a video and you should see coming soon! My apologies to the the office also!

— MeekMill (@MeekMill) January 9, 2023
To the people of Ghana no video I drop is ever meant to disrespect the people of Ghana …. The fastest way to make connection is thru music and I wanted to do that with displaying art … im in my 30's from America and didn't know much about the lifestyle here

— MeekMill (@MeekMill) January 9, 2023
OPD/BOG