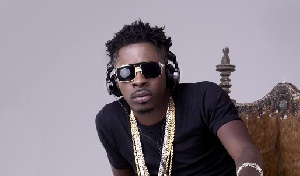 Trending on social media some days ago was news about Dancehall King Shatta Wale dying before the year ends as predicted by a prophet.
The news infuriated Shatta Wale such that he took to his Facebook in a live video indicating that if he does not die by December, he and his Shatta Movement will burn the prophet's church, his branches and all fake churches in Ghana.

However, the Head Pastor of Paradise Way Chapel International, Reverend Sunshine Adam has dared the self-acclaimed Dancehall King to burn down any church in Ghana, and he'll show him who's more powerful.

The pastor said that he will show Shatta Wale the power of worshiping a true God if he dares go-ahead to engage in such an act.
"Let Shatta Wale and his group of people dare attack any Church or man of God and I will personally show him how powerful the Lord is," Sunshine said.

He further warned Shatta Wale that if he dares burn any church in Ghana before December the Christian youth will also respond accordingly before December.

He concluded by saying that because the likes of Obinim cannot read and write as a result cannot express themselves, he Reverend Sunshine Adam can do both hence, Shatta Wale's response was full of nonsense and a disrespect to the Christian faith.