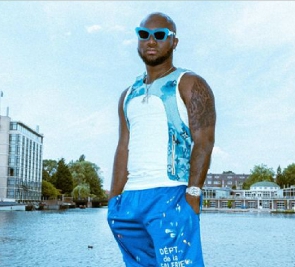 Ghanaian singer and songwriter, Gregory Bortey Newman popularly known as King Promise has shared how he feels about the constant criticisms about the way he dresses.
Per his observation, people actually like his way of dressing and some even call him a fashion icon.

He told Kojo Manuel on Y107.9FM's Dryve of Your Lyfe show, "I don't mind being the lead so people follow. It's the same way I came and had my big shoes and some people were laughing and it got to a time everybody was wearing it. When I wear shorts and singlets everyone is complaining but they still end up wearing it. So I won't say I started it because many people wore it before me but in the eyes of many I'll say I made it a thing for them".

He emphasized that everything about his style of dressing is to give everyone an experience especially what he wore to perform at the just-ended VGMAs.

"I wanted everyone to feel like they're watching a movie. That was the purpose for the way I dressed. It was for the feel of it, just to feel epic, just to put something in your minds to make you remember that this VGMAs he gave us a good show and we had a good time and that was really what it was."

He added that as an individual he always likes to look good regardless and that's one thing everyone around him can attest to.
"Growing up, I've always loved fashion and my dad has always had a boutique so it's just been like that. This is even small because when I get into the billions you guys will suffer."

He added that he does not necessarily pay attention to the brands or designs of what he wears all he cares about is to look good.

"It doesn't have to be a big name or brand. It just has to look good because I believe fashion and looking good is not all about the name it's also about how it looks on you."

King Promise recently won the album of the year award at the just-ended VGMAs with his '5 Star' album.