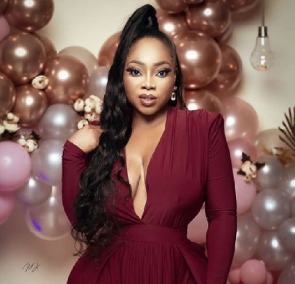 Moesha Budoung has discussed her love for God and how passionately she feels about His presence.
In a recent interview with blogger Sammy Kay, the actress wore a short skirt and a fashionable, colourful blouse that she complemented with her faux locks and introduced herself as a preacher lady who is also a slay queen.

She added that Ghanaians should keep an eye out for her because the previous Moesha cannot be compared to the new Moesha, who will be in everyone's faces.

"I am a slay queen, Osofo Maame. I am just getting started because what you knew me for before was just the babies. After all, I am going to be slaying and slaying and slaying.

"In any outfit that I wear, people will talk about it, and it will blow. My past is my past, and I don't regret any decision that I made because it made me a better woman," she said.

Moesha continued by saying that she has no regrets and that whatever she has done in the past has been a part of her journey.
"Everything I did was part of my journey, and I don't look back and think, "I should have done this or that" I love my story, and my story is perfect," she expressed.





ADA/BOG