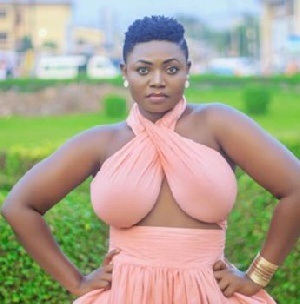 Kumawwod actress Safina Haroun has revealed that she is a virgin
The Kumasi based actress made this revelation during a radio show with Spice FM's Yoofi Eyeson.

According to her, no man has ever hammered her before, her 'machine' hasn't been used.

Information reaching Celebritieskasa.com indicates that Kumawood is set premiere their first pono movie starring the big boobs and sensational actress, Safina Haroun.
Preserving your vagina for a pono movie? If she says she's a virgin, then it means the 'loading' alleged pono movie is %100 full of 'edittings'.

We're yet to confirm if she's still a virgin.

Can't believe one can still be a virgin after an adult movie.