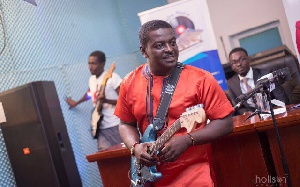 Zylofon Music signed artiste, Kumi Guitar has responded to comments from TV/radio presenter, Afia Schwarzenegger claiming that Zylofon signed acts are flopping drastically.
Kumi who was a guest on Kasapa Entertainment show hosted by kojo Preko Dankwa on Kasapa 102.5FM, said he is disappointed in the vociferous hostess for spewing out such remarks about artistes on Zylofon Music label.

"I saw Afia Schwarzenegger's video and for the first time I was disappointed in her. I have followed her, I like her spirit and how strong she is. In life before you judge somebody, you should look at yourself because no one is perfect, no institution is also perfect. Institutions have their flaws, they have their strength and weaknesses.



"Not to say what she is saying is true or not but there is a way to address the issue in a more better way." Kumi Guitar told Kojo Preko Dankwa.

According to Kumi, blunders happen for a reason and with time those mistakes can be corrected.
"Nana Appaiah Mensah isn't stupid to invest in the arts industry. Any human institutions make mistakes so let give time and respect to every brand.

"If you say Joyce Blessings, and others are struggling to make a hit, have you approached her and management to ask. Madam Afia Schwarzenegger I respect you but for this comment from you was uncalled for. I wish she renders apology to Zylofon Media and Nana Appiah Mensah."



However, the controversial television personality cited Joyce Blessing as a case study, the one time biggest gospel artiste in Ghana is now struggling to be heard after parting ways with Media Excel to join Zylofon Media/Music.

She went on to talk about Rebecca Acheampong affectionately called Becca as one artiste who's fast retrogressing after joining Zylofon Media/Music.


Afia Schwarzenegger added that Becca's "Unveiling" Album which was launched somewhere 2017, to her, despite all the flashy that accompanied the album launch, there's no single song of the album that's making any significant impact on the waves.



She further claimed in the video she posted on her Instagram page that, most of the Zylofon Media promise to their signed acts are fake which are meant for social media likes and comments. Citing Kumi Guitar as a case study, Afia Schwarzenegger revealed that Kumi Guitar was never given a house as promised by Nana Appiah Mensah, CEO of Zylofon Media.