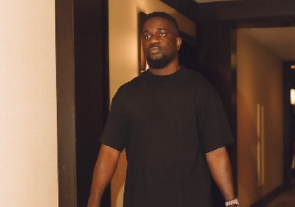 Sarkodie issued an apology to Samini after the latter revealed that the rapper ignored his requests to collaborate during a Twitter space discussion.
In his apology, the award-winning rapper stated that the dancehall artiste's claims may not have been entirely accurate.

In an interview on Daybreak Hitz on Hitz FM, Sarkodie explained that since Samini called him out, he will likely face criticism from other individuals for refusing to work with them.

"I'm saying sorry, not because everything you are saying is true. I treat things differently from how people will treat things.

"I wouldn't call it pain because I don't care. Everybody has something happening to them so. There are thousands of people out there who will also say I don't hesitate to work with them," he said.

He added that he was sorry for how the 'Love Rocks' artiste felt and that he sometimes listens to songs but finds it hard to make a connection.
"I told Bullgod, sometimes you listen to a song and, you don't hear yourself in it so you're trying so hard to find time to do it. I'm saying sorry for how he feels. If he says he feels like that, then sorry," he added.

Samini and Sarkodie clashed when a Twitter user asked Samini if he had any plans to collaborate on a song with the rapper who is currently making headlines for remaking Bob Marley's classic love song "Stir It Up."

The Twitter user @ahenkrah wrote: " @samini_dagaati please when was the last time you entered the studio with Landlord @sarkodie, and when are u people joining again?"

In response, the Ghanaian music legend, who appeared on Sarkodie's 2014 hit song "Love Rock," stated, "I'm not sure I'll need a verse from Sark but if he ever does, I'm not interested, and that's facts. He knows this himself... )y3 Alo sometimes, and I don't play that. Yes or no be a problem for am so e go slow you and your project go dull …, he did it to me on burning EP."

ADA/SARA