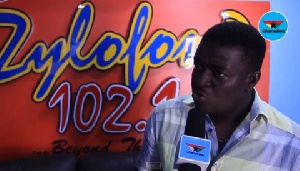 Ghanaian high life artist, Kumi Guitar, has stated that he was classmates with the millionaire Chief Executive Officer of Zylofon Media, Nana Appiah Mensah.
According to the artist who has recently made the headlines over Zylofon Media's controversy with Stonebwoy, Nana Appiah Mensah knew how talented he is and therefore decided to support his career with the proper funding.

Speaking in an interview on Rainbow Radio, Kumi Guitar related that when the Zylofon boss offered him a deal, Kumi Guitar asked him to include other artist. According to Kumi Guitar, this was the very birth of Zylofone Media.

Kumi Guitar went on to comment about the song he released directed at fellow Zylofon artiste, Stonebwoy, saying that people misunderstood his intentions.

According to him, he only made the song to advise his fellow Zylofon signee, and added that he has no ill will towards Stonebwoy.
He also revealed that he even plans to have a collaboration with the Bhim Nation Founder, and that people should expect something big.

"What kind of question are you asking me? In fact is a must. He [Stonebwoy] is my brother and collaboration with him is a must. Ghanaians should expect something big from the two of us.'' He said.