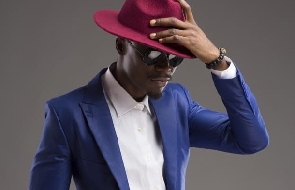 Many have been wondering why social media is yet to witness someone claiming to be E.L.'s look-alike.
However, the rapper has stated categorically that it will be difficult to get someone to be his look-alike, considering his height.

Arguably, one of the tallest musicians in Ghana, only a few of his colleagues are even able to match his height.

Talking to Amansan Krakye in an exclusive interview, the 'Chop Life' crooner said he is too tall for someone to be his look-alike.
"As for me I'm too tall for lookalike nobody tall like me so unless you guys find somebody who is my height to be my lookalike," he said on Cape Coast-based Property FM.

He added, "But I'm not sure that you guys go fit to get somebody wey tall like me to be my look-alike that is why you no still see my look-alike (He said in pigin english)".