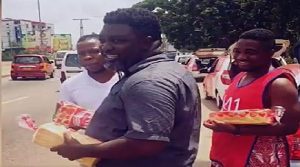 He is known for using his hands to create music, but he is now using the same hands to bake bread. Arguably the most successful music engineer in Ghana, Da Hammer of The Last Two fame has found a new love for bread selling.
He has put his music producing career on hold for a while.

Speaking to Starr News' Osei Owusu Amankwaah, CEO of The Last Two Music Group, Edward Nana Poku Osei, known in showbiz circles as Da Hammer, said his decision to go into baking and selling of bread is in line with his quest to empower the youth.

He has partnered the owner of popular A1 bread, Godfred Obeng Boateng, to expand the sales point of the bread from Kumasi to Accra.

"He watched me change people's lives and he has done similar in his industry. I've known him for a while in Kumasi; I told him the potential in Accra and I told him about why he needs to set up in Accra and so he gave me the task and I made sure that A1 bread in Accra exists," Hammer said.

He revealed that some of the sales agents on the streets of Accra are rappers who want to make some money to invest in their music careers.

Hammer added: "Most of the people selling on the streets are my rappers. People who want to rap; who worry me they have a demo; they are all making money now."
He stated that his new venture is very fulfilling, adding "this is the first time I am starting something from scratch and ending up on someone's dining table. It is so interesting."

He further disclosed that selling A1 bread is getting him more money than music.

"Selling A1 bread is making me more than I made in music."

He advised the teeming youth to ditch their fears and pursue any venture they believe in.

Da Hammer over the weekend surprised staff of Starr 103.5FM on the Morning Zoo with loaves of A1 bread.

Hammer is known for grooming some of the best Ghanaian Hip Hop or Hiplife artists, including Obrafour, Tinny, Kwaw Kese, Sarkodie, Ayigbe Edem, and others. As a producer, he is credited as one of the pioneers and key figures in the popularization of Hiplife or Hip Hop made in Ghana.