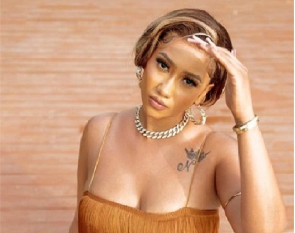 Hajia4Reall has predicted that she could be in Ghana in July this year.
She disclosed this while interacting with her publicist, GH Hyper, who tipped the socialite as the 'Guest of honour' for the upcoming launch of his lounge.

Hajia4Reall has been granted $500,000 bail following her arrest and extradition from the UK to the United States, in a $ 2 million fraud case.

But in a conversation with GH Hyper during an Instagram live session on her birthday, Hajia stressed that once there is life, every good thing is possible.

This is what ensued between them,

GH Hyper: I was pained you were not around to grace the VGMA red carpet
Hajia4Reall: Whatever happens is good. Whatever God does is good. Once there is life, there is hope.

Hajia4Reall: When are you coming to America?

GH Hyper: Maybe July, ending

Hajia4Reall: Maybe by that time I should be in Ghana you know. With God, everything is possible. Nothing is impossible.

GH Hyper: You should be in Ghana by then for the opening of my lounge. You are the one opening it, I told you.
Background

Mona Faiz Montage, widely known as Hajia4Reall was extradited to the United States from the United Kingdom over alleged involvement in a $2 million romance scam targeting older, single Americans.

According to US federal prosecutors, the 30-year-old musician cum businesswoman appeared in Manhattan federal court on Monday, May 15 for her alleged involvement in a series of romance schemes.

The news has since flooded social media, topping Twitter trends amidst massive reactions from netizens online.

Hajia's jail requirements
'Hajia4Reall' has pleaded not guilty to the charges leveled against her.

She is also said to have been released on home detention to her aunt's New Jersey residence on a $500,000 bond with GPS tracking via an ankle monitor, her lawyer, and the prosecutor's office had confirmed.






EB/FNOQ