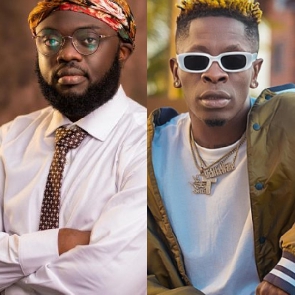 Kwadwo Sheldon has responded to Shatta Wale following a claim the musician made that the Youtuber has been pleading with Medikal to convince him [Shatta] for an interview.
The YouTuber on his "Yawa of the Day" show, said that if he truly needed an interview with the SM Boss, he wouldn't criticize him in any manner until he had it.

"If I were so bent on interviewing you, I would have been kissing your ass. I won't come and sit anywhere to criticise you and I would be kissing your ass to the interview.

"I am not afraid of you," he said.

Kwadwo Sheldon further stated that he believes he occupies a significant part of Shatta Wale's memories for the musician to come at him the way he did.

"I live rent-free and have 75 acres of land in your mind. You watch my YouTube video, you are a fan," he added.
Kwadwo Sheldon's statement comes after the Dancehall musician talked down on the Youtuber and alleged that he disrespected the President of Ghana for allowing Meek Mill to film a music video at the Jubilee House.

Shatta Wale unleashed unprintable insults on Sheldon but the Youtuber denied ever passing derogatory remarks on the president.



ADA/BB