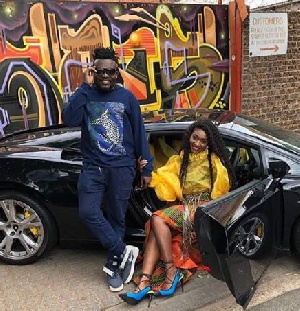 Barely there days after the release of the most anticipated song titled 'Uber Driver' by Wendy Shay, the video jumped to the top of the trending section on YouTube.
In the process, Bullet who happens to be the manager of the aforementioned artiste took to social media particularly Facebook and posted that the record Wendy Shay's song had set is unprecedented as a new artiste. He posted on Facebook that;

"New artist to hit number one on YouTube in 24hrs has never happen before. to God be the glory.there is God ooo".

Fast forward, no-nonsense Ghanaians on social media descended heavily on Ricky Nana Agyeman affectionately called Bullet for rating 'underdog' Wendy Shay over legendary Ebony Reigns of blessed memories.

As a result of the mixed reactions expressed by Ghanaians in response to Bullet's infamous comparison, he has do the needful thing but retracting his statement.
According to the CEO of RuffTown records, Ebony is a legend in her own regard and cannot be compared in anyway to others (Wendy Shay) because her achievements are phenomenal and cannot be compared with what others are doing.

More importantly, he acknowledged the fact that he is what he is today because of Ebony Reigns. Bullet who was Ebony's manager prior to her untimely demise called on the public especially bloggers to put some respect on the name of the late Ebony Reigns. He posted via Facebook that;

"My dear bloggers thanks so much for pushing all rufftown records artist I appreciate it so much and may God bless you all.yes Wendy shay's new song uber driver is breaking records but I didn't say it anywhere that she is breaking records ebony couldn't break.ebony is a legend and will forever be a legend.ebony is the reason why am here today so pls let's put some respect on the Queen's name!".