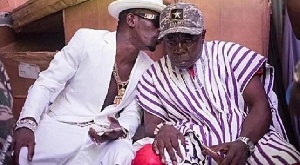 Mr. Charles Nii Armah Mensah Snr, father of dancehall King, Shatta Wale, has spoken again on death prophecies made concerning his son.
Mr. Mensah, also known as Shatta Capo, has disclosed that those so-called prophets mention his Shatta Wale's name in their prophecies all in because they want to become popular.

He made this statement in an interview with Hitz FM recently.

Mr. Mensah is reported to have said: "Shatta Wale has become very popular as we all know; he has become institution so definitely people would want to associate with him."

"People want to be tagged with him to gain some popularity including some of these pastors."

Shatta Wale, since the death of talented dancehall star, Ebony Reigns, has been in the news.
Some pastors have claimed that he is next to die after Ebony. But Shatta Wale went haywire after the prophecies and in a livestream video on Facebook, warned the pastors to exclude his name from their death list.

He also threatened to burn down churches in Ghana by December if he should be alive.

Shatta Wale further accused the prophets who claim to have predicted the death of Ebony of killing her to prove their points.

Meanwhile, Shatta Capo has reportedly written to the CID to have the pastor who predicted death for his son investigated.