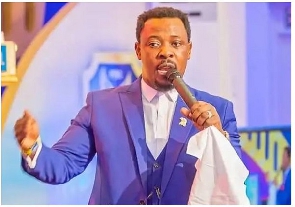 The founder of True Word Prophetic Fire Ministries (Grace Chapel), Prophet Nigel Gaisie, has insisted that he doesn't use doom prophecies to gain popularity. According to him, he only shares what he hears from God.
During a recent discussion on false prophecies on UTV's United Showbiz, Prophet Gaisie expressed his frustration over rumours that he uses such prophecies for publicity.

"I didn't become who I am today because my prophecies get national attention. It is a gift God has blessed me with. When I see something, I say it. I have been on radio for the past 14 years and TV as well, so it will be wrong for anyone to assume that I'm riding on doom prophecies just to be popular or attach it to my popularity now," he explained.

He noted that Ghanaians often undervalue their own prophets but hold prophets from other countries in high esteem.

"If there is a prophecy from Ghana, we do not value it, but when it is from another prophet from a different country, we pay attention to it," he pointed out.

Prophet Gaisie also shared concerns about a disrespectful statement made by one of the panellists on the show. He revealed that continuous disrespect has led him to decline media interviews.
"In the name of speaking my mind, people disrespect you by saying anything and talking anyhow to you," he added.

Click here to start the nomination process for the 2023 GhanaWeb Excellence Awards

Prophet Nigel Gaisie's comments come after sentiments have been expressed about prophecies made about an individual he refers to as "Sherif Black".

He has repeatedly been blasted over prophecies made about Ghanaian celebrities, including musician Wendy Shay, who was recently involved in a near-fatal accident.

ID/DAG
Ghana's leading digital news platform, GhanaWeb, in conjunction with the Korle-Bu Teaching Hospital, is embarking on an aggressive campaign which is geared towards ensuring that parliament passes comprehensive legislation to guide organ harvesting, organ donation, and organ transplantation in the country.

Watch the latest episode of Nkommo Wo Ho on GhanaWeb TV below: