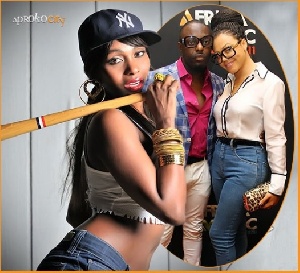 Nollywood actor Jim Iyke, has disclosed that his ex-American fiancée of six years, Keturah Hamilton, was an amazing woman - and that he can never get upset with her.
The actor explained this during an interview session with Emmer Emerson of Golden Icons, that sometimes people allow their emotions to over shadow them and as such, are bound to say something's which they never meant.

It would be recalled that when Jim Iyke broke up with Keturah Hamilton, she bashed him publicly saying his show was fake, and promised to reveal his secrets.

Jimmy further explained that he decided to keep silent because he and Keturah did not part well but lived well and as such, would not have people to sit and say things into his ear.

"Whatever comes out of my mouth I take responsibility because I sat about it, tailored it and thought about it and said it. I can afford to forgive you if you are emotionally charged and you feel wronged. You are going to say stuff you don't mean."
The actor further noted that some people are not just meant to come into your life, but rather, they come to help make a change and you definitely owe them a debt you will never be able to pay for the rest of your life.

"That is what I owe that woman. I've offered her friendship and she is taking that. I'm glad we can look at our stupid mistakes and laugh about it. When you are in that place, there is nothing more beautiful than that."

Jim Iyke is currently in a relationship with Ghanaian actress Nadia Buari.