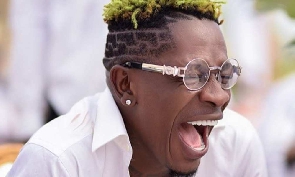 Controversial dancehall musician Shatta Wale has claimed that he masterminds everything he does on social media.
Shatta revealed in an interview with Accra-based Nhyira FM that he strives to be controversial on many matters because he is patriotic and passionate about issues that affect ordinary folks.

The "On God" artiste furthermore argues that he frequently appears in the media because he is "too patriotic to keep quiet" about issues that are wrong in the nation, particularly in the music industry, where he operates.

"I can say that I'm patriotic, apart from me being patriotic, unfortunately, the kind of job I do is made public, so it makes it easier for people to speak about Shatta, so it's just my job.

"Many people don't know themselves, but I can tell you that, everything I do, is planned, so it will get to the point where people will understand me," he said.

His statement follows a serious brawl he had with Kwadwo Sheldon warning him to stop using a line in his song titled "On God" for his YouTube show, 'Yawa of the Day.' The line is: 'ibi the yawa of the day.'

According to the dancehall artiste, he told the YouTuber he didn't compose the music for him.
"I will insult you in any way that I want. That song of mine that you play on your programme, I am warning you to stop it hands down.

"Delete my song from your programme. I didn't do that song for you. You didn't bring the name, 'Yawa of the Day'. delete that theme," Wale is seen cautioning.



Watch the latest episode of Talkertainment below:



ADA/SARA