The banter between Ghanaian comedienne and management of TV Africa is getting murky by the day as both are beginning to leak sorry details of what really transpired leading to the split in their relationship.
TV Africa on Tuesday in a statement claimed, Afia Schwarznegger born Valentina Nana Agyeiwaa made some derogatory comments about someone on her show but when impressed upon to retract and apologize, she arrogantly refused and walked out on the entire production team.

"We wish to put on record nonetheless, that a few months back Madam Valentina Agyeiwaa was requested by management to retract a statement she made on one of her shows "POLITICAL POLICE" which did not resonate appropriately with the editorial policy of the station. Madam Agyeiwaa flatly refused the ethical standard procedure to retract and apologize and rather chose to walk out on the entire production team in the process", they revealed in a statement copied to MyNewsGh.com.

But in a lengthy letter addressed to the station on her Facebook page, she explained that she could not lie about certain things required by the management and had to call it quits.

"And oh before I forget…yes I was asked to say on TV that my attention has been drawn to what I said abt GN bank and apologise…pls where GN bank is today???Have they paid their customers???
And where were the attention drawers when i was doing Menzgold/ Capital Bank n Otabil's stories????Or they are not banks right..

Oh yes I walked out of the studio becos i wasnt going to lie on behalf of anyone…

Naaa you hired my BRAND NOT my CONSCIENCE !!!! Respect yourself and pay me my money..i need to feed my mum n children…PERIOD. I hate it when people want to have problems with u over what is duly yours"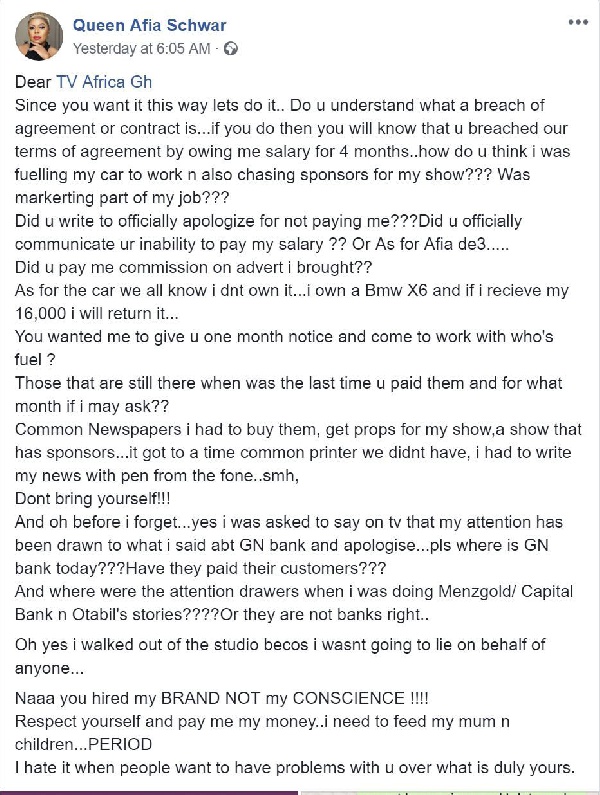 Send your news stories to and features to . Chat with us via WhatsApp on +233 55 2699 625.