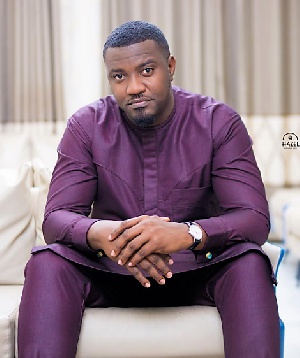 Popular Ghanaian actor, John Dumelo has waded in on the controversial statement made by socialite Moesha Boduong on CNN.
According to the livestock farmer, the statement made by Moesga is true to an extent but the decision to generalize was "wrong."

In a video interview released this week, Boduong revealed that she sleeps with a married man to take care of herself, and suggested that young women in the country do the same. He added that it is a situation of "demand and supply" because "there are equally men in society who also depend on women for survival."

The 'Northern Affair' actor also shared personal experiences where some ladies ladies asked for a favour, and were ready to pay with sex.

"I have been in situations where ladies have messaged me to say that '…I need to pay my rent or my school fees or some favour in return I'll offer you something;…" recalled Dumelo.

"I told the girl that I wouldn't do that. 'If you want money, I'll give you your money for your rent or whatever it is but I'm not going to give you in return for your sexual favours or anything'."

Dumelo suggested that, it would have been better if she said some women, and not make it a general situation.
"Maybe what she should have said was that some women including herself, would probably have something to do with a man who would give her rent or give something of that sort in return for certain favours," explained the actor to Daniel Dadzie, host of the Super Morning Show on JOY FM.

"What I find wrong is that she generalised it and said every woman in Ghana depends on a man financially."