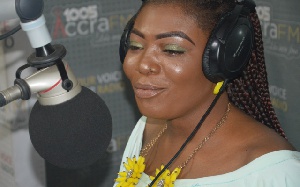 Florence Obinim, wife of Bishop Daniel Obinim, has disclosed she and her husband kept seeing each other in their dreams prior to getting married.
Narrating how she met her husband on Ayekoo Ayekoo on Accra100.5FM on Friday December 16, the gospel musician said she vowed never to marry a man of God when she was growing up, but at any church she went to sing, men of God prophesied to her she would marry a pastor.

According to her, after crossing paths with Mr Obinim on a park while praying, she kept seeing him in her dreams and vice versa until Obinim announced in church God had revealed she would be his wife.

The Osoro Ne Me Fie hit maker told show host Nana Romeo: "Growing up, I didn't want to get married to a pastor but whatever you dislike and speak with your mouth is what you get. If you do not know God's plans for your life, don't say you don't like something. I kept saying I will never marry a man of God.

"But when I began singing at my church and other churches, every prophet I encountered prophesied I was going to marry a man of God. I got angry with the first pastor who told me that and I walked out, only to fall on the street and break my leg…" she stated.
Mrs Obinim recounted: "After three months, I went to sing at another church at Atonsu where Prophet Oko Hackman was organising a programme. After ministering, Prophet Oko Hackman prophesied again that I would marry a man of God at all cost.

"One day, while praying at a park, Obinim, who was then not an angel and was also praying at the park, approached me and also prophesied to me I would marry a man of God. He prophesied that my husband will buy me an expensive car and recently when he got me a Range Rover, I remembered that prophecy.

"We kept seeing each other at the park anytime I went to pray. Later, I joined his church and followed him when he decided to go solo. We prayed together as friends. One day he said some women had expressed interest in him and so he wanted to travel to pray to God to reveal his wife. When he returned from praying on the mountains, he announced in church that God had revealed I was his wife. I wasn't surprised because I was seeing him in my dreams and he told me he was also seeing me in his."