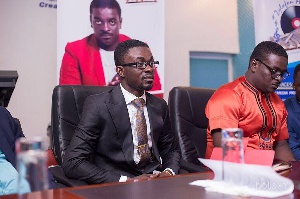 Kumi Guitar has said he started Zylofon Music with his boss Nana Appiah Mensah, CEO of Zylofon Group and Menzgold Ghana.
He told Deloris Frimpong-Manson (Delay), that Nana Appiah was his mate in high school, Adisadel College. Even though they were not 'best friends'; they were very good friends.

"I won't say we were that kind of friends who'll break bread together but we were very cool."

Kumi said after two months of leaving Veteran Music Producer, Mark Okraku Mante's label, 'Sugar Tone' Nana Appiah called him over to his office and that was when their bound rejuvenated. Even though they had lost each other's contacts for a very long time, Nana Appiah being well aware of the Highlife Artiste's skills was not skeptical about investing in him.

"I was the first artiste he signed on Zylofon Music. He knows I have a keen interest in music. I was best known for dancing and singing in high school so he had every reason to put me on."
According to Kumi, he also considered what benefits or advantages Nana Appiah could give him before taking his offer into consideration. And he would say that, signing onto the Entrepreneur's label was not a bad idea at all. He also added that, Nana Appiah is very much aware of what he is doing so the public should not think he is just 'throwing' his money away.

"Nana Appiah is doing very well. He has invested in us and we'll repay him when the time is due. But as at now, he is just sowing, knowing very well that he'd ripe very soon."

He added that, there is no friction between him and Stonebwoy or any other artiste on the record label; thus, he considers Zylofon Music as one family and therefore every beef has been squashed.