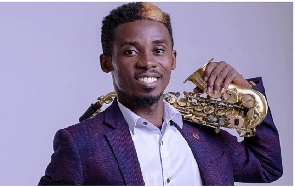 Ghanaian saxophonist, Mizter Okyere has revealed how he met former USA President Donald Trump in 2020 after doing his 'YMCA' campaign sax cover.
Speaking to Amansan Krakye on Property FM in Cape Coast, Mizter Okyere disclosed how playing the saxophone has brought numerous benefits to his life.

He narrated "I happened to be in the USA during the lockdown in 2020 and that year was also an election year in the country and Trump's song was trending.

"YMCA was the song and it was really trending on social media in the USA during the election year in 2020 and I did the sax cover of that song.
"After I released the sax cover of Donald Trump's song then I had a call in the USA that they've seen my cover and Trump would like to see me," he revealed sighted by MyNewsGh.com

"I thought it was a joke when they said Trump wanted to see me and I was booked and taken to where Trump was holding his rally which was at Hollywood in California and I met Trump.

"During that time my visa to stay in the USA had expired but they renewed it for me and so playing of sax has brought so many benefits in my life so far so good," he disclosed.