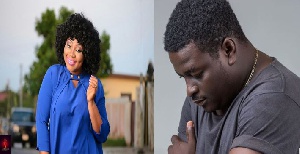 Showbiz critic, Sally Frimpong has vehemently chastised Kumi Guitar for attacking Stonebwoy in a song, abrantepa.com can report.
Highlife artiste, Kumi Guitar on Monday released a song directed at Stonebwoy following the ongoing fracas between the dancehall artiste and Zyofon Media.

Kumi who is the first to have been signed on to Zylofon Music believes Stonebwoy has been greedy, ungrateful and selfish, for which reason he slammed the dancehall artiste, who was the fifth to be signed.

"Be humble. This posture has driven away many investors. Oboy, stop what you're doing. You no be shareholder. Zylofon no be your own… You think you bi mafia? You want to worry Nana Appiah. You think you are smart?" were some of the lines in the song.

Prior to the release, Kumi Guitar had disclosed that Stonebwoy was given a week to decide whether he would stay or leave Zylofon Media.

"I'm starting to talk because I began this thing. Our boss wouldn't have been in this industry. I was the one who spoke to him to do it and I wasn't selfish, I told him to add people on board and then you [Stonebwoy] also are a beneficiary…yes he was Stonebwoy before we met him but can he say that Zylofon has added nothing to him?
"You've been spoken to and then you've been given the opportunity to decide if you still want to be part of us as family…if you want to go also, you decide. For a week now you've not responded only for you to do this. Is it that you want to frustrate the investor or you want to frustrate Zylofon," he questioned in an interview with myjoyonline.com.

Reacting to the release of the song on Power FM, Sally Frimpong expressed utmost disappointment in Kumi Guitar. She opined that Kumi Guitar who is "struggling to make it" should be concentrating on his career instead of insulting "an artiste [he] wished to be".

According to her, Kumi Guitar should take notice of the fact that he could find himself in the situation as Stonebwoy. For her, Kumi Guitar's decision to release the song was highly unfortunate.

"I thought you were one of the smartest dudes," she jabbed.