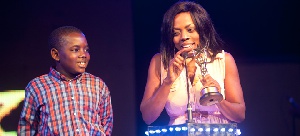 Broadcaster, Nana Aba Anamoah has disclosed in a revealing interview with KOD she tried everything within her power to abort her child some 12 years ago.
She told host of Live360, it was a difficult period in her life.

"It was difficult when I was pregnant. When I was pregnant, I was really young. I was a teenager. And I got pregnant. I swear to God, I tried everything to get rid of that child and it didn't work.

It just didn't work. I remember one time when my mother suspected I was pregnant; she said to me you are going to do a pregnancy test the next morning".
She added that her brother colluded with her in her quest to abort the pregnancy.

"And then, I spoke to my brother and said 'okay they said I should do a pregnancy test so give me your urine because I don't want to give them my urine. And it came back positive.

It came back positive then I knew my son didn't want to go because I tried everything. People had given me injections, I did everything. And I can understand why this boy just wouldn't go because he changed my life."